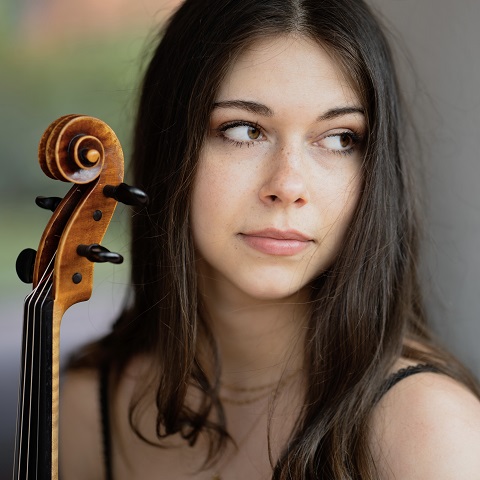 Emma Wernig
alto
Née en 1999, l'altiste germano-autrichienne Emma Wernig a grandi à Los Angeles, en Californie. Lauréate de nombreux concours, Emma a reçu le « Prix Barbirolli » au Concours International d'Alto Tertis 2019. Après avoir remporté le Concours international d'alto Cecil Aronowitz en 2017, elle a sorti son premier album d'œuvres autrichiennes rares pour alto sur le label Champs Hill en juillet 2021 aux côtés du pianiste Albert Cano-Smit, acclamé par la critique.
Emma Wernig s'est produite entre autres au Festspiele Mecklenburg-Vorpommern, Festival de Musique de Wissembourg en France, Krzyzowa Music, Verbier Festival Academy, Gstaad Menuhin Festival, IMS Prussia Cove. En raison de la pandémie, son apparition prévue à Chamber Music Connects the World de la Kronberg Academy est reportée. Actuellement, Emma Wernig est boursière de la Mozart Gesellschaft de Dortmund et apparaît comme soliste vedette dans leur saison 2021-22.
La plus grande passion d'Emma réside dans la musique de chambre, ayant collaboré avec des artistes tels que Viviane Hagner, Lynn Harrell, Anthony Marwood, Andrew Marriner, Clive Greensmith, Misha Amory et Ida Kavafian.
Emma Wernig a obtenu son baccalauréat en musique au Colburn Conservatory où elle a étudié avec Paul Coletti ainsi qu'une maîtrise en musique de la Yale School of Music avec Ettore Causa où elle a reçu le Lucy Grosvenor Memorial Prize. Emma Wernig étudie actuellement avec Tabea Zimmermann à la Musikhochschule Hanns Eisler et réside à Berlin, en Allemagne.