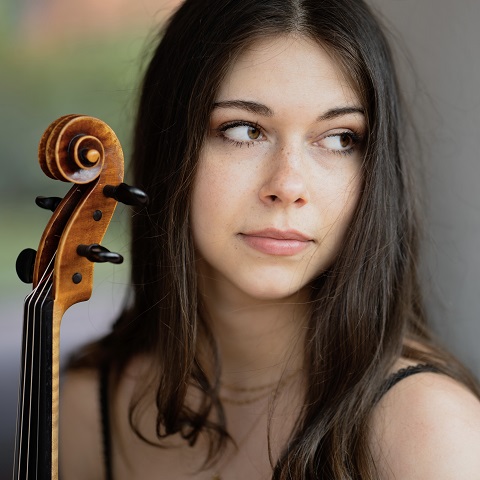 Emma Wernig
viola
Born in 1999, German/ Austrian violist Emma Wernig grew up in Los Angeles, California. A prizewinner in many competitions, Emma received the "Barbirolli Prize" at the 2019 Tertis International Viola Competition. As a result of winning the 2017 Cecil Aronowitz International Viola Competition, she released her debut album of rare Austrian viola works on Champs Hill record label in July 2021 alongside pianist Albert Cano-Smit to critical acclaim.
Emma Wernig has appeared at among others Festspiele Mecklenburg-Vorpommern, Festival de Musique de Wissembourg in France, Krzyzowa Music, Verbier Festival Academy, Gstaad Menuhin Festival, IMS Prussia Cove. Due to Covid-19, her scheduled appearance at Kronberg Academy's Chamber Music Connects the World is postponed. Currently Emma Wernig is a scholarship holder of the Mozart Gesellschaft Dortmund and appears as a featured soloist in their 2021-22 season.
Emma's greatest passion lies in chamber music, having collaborated with artists such as Viviane Hagner, Lynn Harrell, Anthony Marwood, Andrew Marriner, Clive Greensmith, Misha Amory and Ida Kavafian.
Emma Wernig earned her Bachelor of Music degree from the Colburn Conservatory where she studied with Paul Coletti and Master of Music degree from the Yale School of Music studying with Ettore Causa where she received the Lucy Grosvenor Memorial Prize. Emma Wernig is currently studying with Tabea Zimmermann at the Musikhochschule Hanns Eisler and resides in Berlin, Germany.