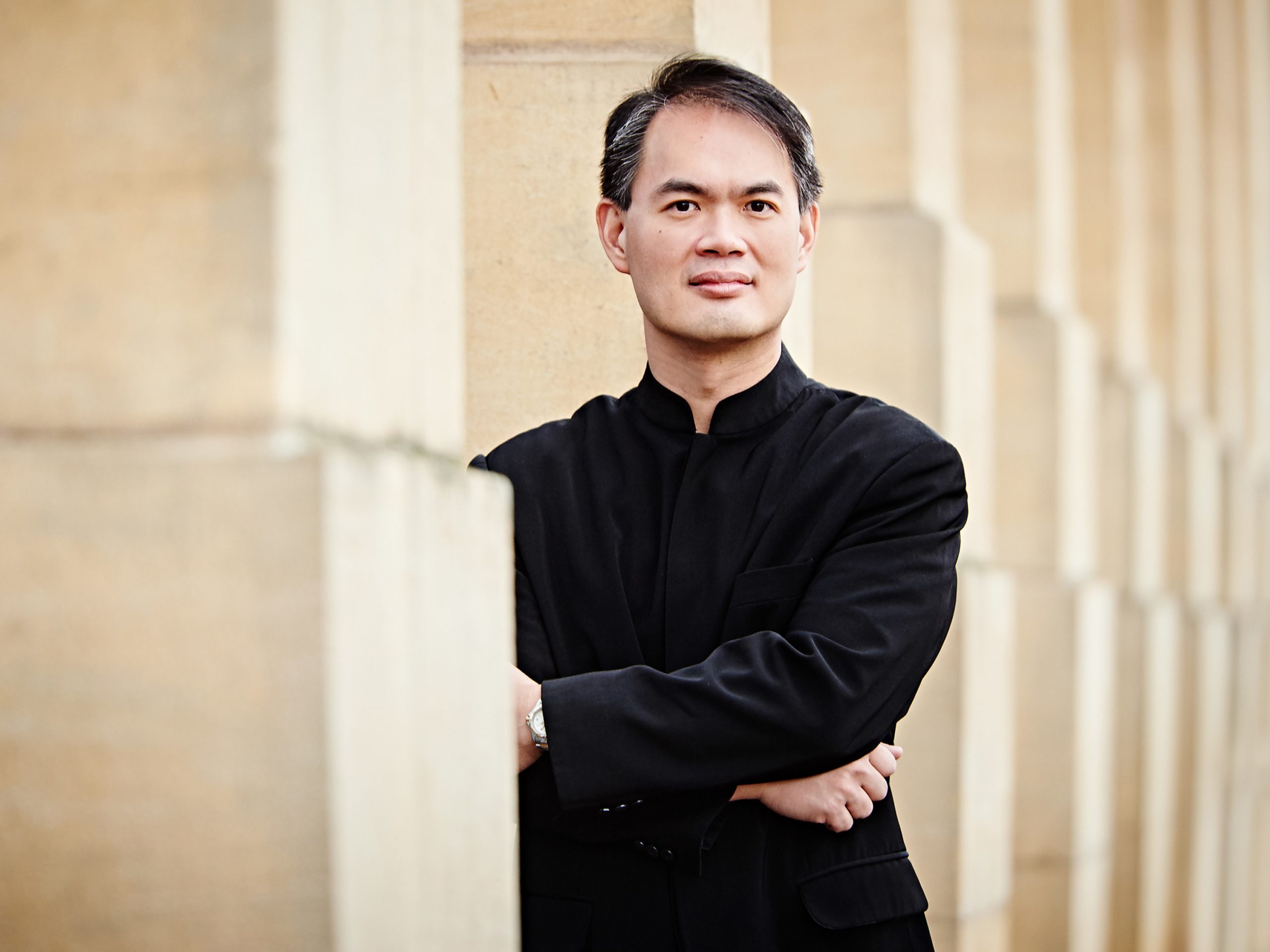 Wilson Hermanto
Chef d'orchestre
Apprécié pour sa grande musicalité, son autorité naturelle, son élégance et son exubérante énergie en tant que chef d'orchestre, Wilson Hermanto est, depuis 2017, le chef invité principal de l'orchestre de chambre Cameristi della Scala. Au cours de la saison 2021-2022, Wilson Hermanto dirigera les Cameristi della Scala avec des solistes de premier ordre tels que Gautier Capuçon, Daniel Müller-Schott, Maxim Vengerov, Francesco Piemontesi, David Fray, Carolin Widmann et Nils Mönkemeyer. En tant que chef invité, Wilson Hermanto fera ses débuts avec le Baltic Opera en Pologne en dirigeant "Candide" de Leonard Bernstein ainsi qu'avec l'Argovia Philharmonic et l'Orchestre symphonique de la Radio national polonaise. Depuis 2022, Wilson Hermanto et Daniel Müller-Schott sont les co-directeurs artistiques du Vevey Spring Classic Festival en Suisse.
Récemment, Wilson Hermanto a dirigé les Cameristi della Scala au Festival George Enescu et emmené l'Orchestre en France, en Allemagne, en Suisse, en Autriche, en Turquie ainsi qu'au Teatro alla Scala di Milano. Les récentes apparitions en tant que chef d'orchestre ont permis à Wilson Hermanto de diriger l'Orchestre philharmonique de Varsovie, le Sinfonia Varsovia, l'Orchestre philharmonique de Heidelberg, le Philharmonique George Enescu et l'Orchestre de l'Accademia del Teatro alla Scala ainsi que de recevoir de nouvelles invitations pour diriger l'Orchestre Mariinsky, l'Orchestre national de Metz, l'Orchestre philharmonique de Szczecin et l'Orchestre philharmonique de Bogota.
Sur l'invitation de Valery Guergiev, Wilson Hermanto a dirigé une production de Don Giovanni de Mozart, au Théâtre Mariinsky à Saint-Petersbourg. En tant qu'ancien protégé de Pierre Boulez, Wilson Hermanto a dirigé le concert anniversaire des 90 ans du maestro à Genève avec le nouvel Ensemble Contrechamps. Wilson Hermanto dirige régulièrement en France où il a travaillé avec l'Orchestre national de Lyon, l'Orchestre philharmonique de Radio France, l'Orchestre national du Capitole de Toulouse, l'Orchestre de chambre de Paris, l'Orchestre national d'Ile de France, l'Orchestre national de Metz, l'Orchestre national de Bretagne etc.
Dans sa carrière internationale, on compte notamment des concerts avec l'Orchestre de Cleveland, l'Orchestre philharmonique de la radio de Sarrebruck , l'Orchestre symphonique de Prague, le London Philharmonic Orchestra, le BBC National Orchestra of Wales, l'Orchestre de la Suisse italienne, l'Orchestre de chambre de Lausanne, le NDR Radio Philharmonie Hannover, l'Ulster Orchestra, l'English Chamber Orchestra, l'Orchestre de chambre de Genève, le Florida Orchestra, le Malaysian Philharmonic Orchestra etc.
Avec un large répertoire allant de la période baroque jusqu'à la musique de notre temps, Wilson Hermanto programme régulièrement des œuvres contemporaines et travaille avec des compositeurs contemporains renommé tels que Zygmunt Krauze, Bruno Mantovani, Jörg Widmann, Agata Zubel,Thuridur Jónsdóttir, Helmut Lachenmann, Giovanni Sollima, Magdalena Długosz, H.K Gruber, Matteo Franceschini, Enno Poppe et Lowell Liebermann. Parmi les solistes avec lesquels Wilson Hermanto a travaillé, on compte notamment Lang Lang, Gautier Capuçon, Daniel Müller-Schott, Sergei Babayan, Boris Berezovsky, Alexei Volodin, Christine Goerke, Miah Persson, Alina Pogostkina, Guy Braunstein, Nils Mönkemeyer, Kian Soltani, Richard Galliano, Radek Baborák et le Trio Wanderer.
Né en Indonésie, d'origine chinoise et résident suisse depuis une dizaine d'années, Wilson Hermanto, débute sa formation musicale par le piano et le violon. Il est diplômé du Conservatoire de musique Peabody en violon et a poursuivi des études de direction d'orchestre à la Manhattan School of Music avec le regretté maestro suédois Sixten Ehrling. Sir Colin Davis devient son mentor musical en portant un intérêt personnel au développement de Wilson Hermanto. Il a été également l'un des derniers élèves de la fameuse classe de direction du Maestro Carlo Maria Giulini à la Scuola Musica de Fiesole en Italie, en résidence de direction au prestigieux Tanglewood Music Center, ainsi qu'à l'Académie du Festival de Lucerne sur l'invitation de Pierre Boulez afin de travailler avec lui.