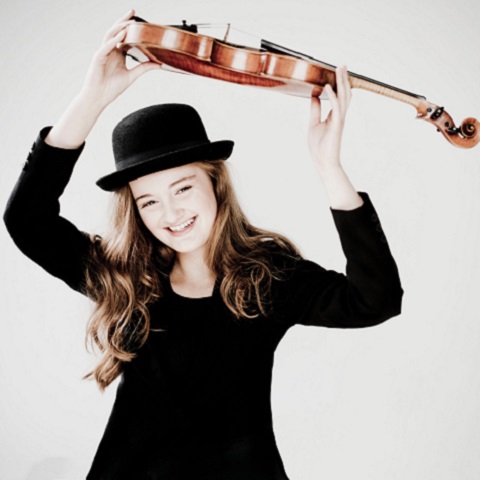 Noa Wildschut
violon
La violoniste néerlandaise Noa Wildschut (2001) n'a que 20 ans, mais s'est déjà fait une place sur la scène internationale de la musique classique. À l'âge de 6 ans, elle est apparue en direct à la télévision nationale néerlandaise pour le «Kinderprinsengrachtconcert 2007» à Amsterdam. À 7 ans, elle a fait ses débuts dans la salle principale du Concertgebouw d'Amsterdam lors de la « Night of the Promising ». En septembre 2016, elle est devenue une artiste d'enregistrement exclusive pour Warner Classics.
Au fil des ans, Noa s'est bâti une solide réputation et est régulièrement invitée pour des festivals, des récitals et des performances en solo avec des orchestres, tant dans son pays d'origine, les Pays-Bas, qu'à l'étranger. Elle a joué avec des musiciens inspirants tels que Janine Jansen, Anne-Sophie Mutter, Menahem Pressler, Igor Levit, Enrico Pace, Quirine Viersen, Paolo Giacometti, Arthur et Lucas Jussen. Ces dernières années, Noa a joué en duo avec le pianiste Yoram Ish-Hurwitz et depuis 2018, Noa forme un duo avec la pianiste allemande Elisabeth Brauß.
Elle travaille avec des orchestres tels que Pittsburgh Symphony Orchestra, Royal Scottish National Orchestra, Royal Liverpool Philharmonic, Rotterdam Philharmonic Orchestra, Residentie Orkest, Netherlands Radio Philharmonic Orchestra, Netherlands Philharmonic Orchestra, Netherlands Chamber Orchestra, Concertgebouw Chamber Orchestra, Camerata Salzburg, Kremerata Baltica, Mutter Virtuosi, Konzerthausorchester Berlin, Gürzenich Orchester Köln, Luzerner Sinfonieorchester, Sinfonieorchester Basel, Orquestra Sinfônica de João Pessoa au Brésil et Orquesta Sinfónica de Guayaquil en Équateur, coopérant avec des chefs tels que Manfred Honeck, James Gaffigan, Michael Sanderling, Vasily Petrenko, Anja Bihlmaier, Nicholas Collon et Elim Chan.
Noa a remporté de nombreux prix dès son plus jeune âge, dont le premier prix au Concours international de violon Louis Spohr à Weimar (à 9 ans), le premier prix au Concours de violon à La Haye (à 10 ans), le Concertgebouw Young Talent Award 2013 (à 11 ans) et elle a reçu le Anton Kersjes Violin Prize 2017 (à 16 ans). Au Festspiele Mecklenburg-Vorpommern, Noa a reçu le WEMAG Soloist Award 2018. Noa a été sélectionnée pour être ECHO Rising Star pour la saison 2019-20 par l'European Concert Hall Organisation ; par conséquent, elle a voyagé à travers l'Europe, visitant les grandes salles de concert. Noa a commencé ses cours de violon à l'âge de 4 ans avec Coosje Wijzenbeek et à partir de 2013, Noa a étudié avec le professeur Vera Beths à l'Université des Arts d'Amsterdam. Actuellement, Noa étudie avec le professeur Antje Weithaas à la Hochschule für Musik Hanns Eisler à Berlin. En plus des cours réguliers, Noa a suivi des masterclasses et des leçons avec Ivry Gitlis, Jaap van Zweden, Menahem Pressler, Frank Peter Zimmerman, Anner Bijlsma et Liviu Prunaru. De 2014 à 2019, Noa a été membre des « Mutter Virtuosi », un ensemble à cordes dirigé par Anne-Sophie Mutter. De 2015 à 2019, Noa a bénéficié d'une bourse officielle de la Fondation Anne-Sophie Mutter, leur plus jeune membre. Le radiodiffuseur de service public néerlandais NTR a produit le documentaire « Noa11 », qui a été diffusé en novembre 2012. En septembre 2017, le documentaire « A Family Quartet » est sorti sur Noa et sa famille, qui a été projeté dans de nombreux théâtres néerlandais et a été diffusé à la télévision.
L'archet de Noa est un Dominique Peccatte, du milieu du XIXe siècle, gracieusement prêté par la Dutch Musical Instruments Foundation. Noa joue un violon de 1750 de Giovanni Battista Guadagnini, précédemment interprété par le violoniste Joshua Bell, généreusement prêté par un mécène par le biais du Tarisio Trust.