Anne-Sophie Mutter
violin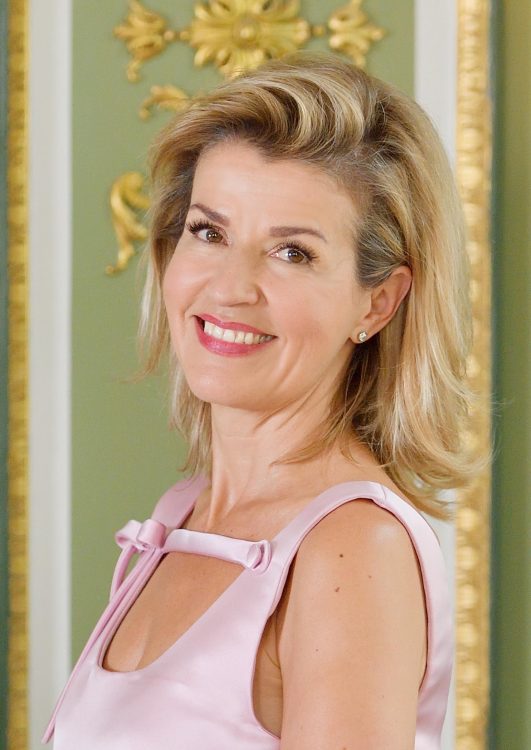 Anne-Sophie Mutter is a musical phenomenon: for more than 45 years the virtuoso has now been a fixture in all the world's major concert halls, making her mark on the classical music scene as a soloist, mentor and visionary.
The four-time Grammy® Award winner is equally committed to the performance of traditional composers as to the future of music: so far she has given world premieres of 30 works – Unsuk Chin, Sebastian Currier, Henri Dutilleux, Sofia Gubaidulina, Witold Lutoslawski, Norbert Moret, Krzysztof Penderecki, Sir André Previn, Wolfgang Rihm, Jörg Widmann and John Williams have all composed for Anne-Sophie Mutter. She dedicates herself to supporting tomorrow's musical elite and numerous benefit projects. Furthermore, the board of trustees of the German cancer charity "Deutsche Krebshilfe" elected her the new president of the non-profit organization in 2021. Starting in January 2022, she joins the foundation board of the Lucerne Festival. In the autumn of 1997 she founded the Association of Friends of the Anne-Sophie Mutter Foundation e.V., to which the Anne-Sophie Mutter Foundation was added in 2008. These two charitable institutions provide support for the scholarship recipients, support which is tailored to the fellows' individual needs. Since 2011, Anne-Sophie Mutter has regularly shared the spotlight on stage with her ensemble of fellows, Mutter's Virtuosi.
On July 24, 2021 Anne-Sophie Mutter performed the world premiere of the "Concerto for Violin and Orchestra No. 2" which John Williams dedicated to her in Tanglewood. For the 2021/22 season, an extensive European tour with "Mutter's Virtuosi" is being undertaken, during which the work Gran Cadenza for two violins, which Anne-Sophie Mutter commissioned from Unsuk Chin, has been given its world premiere. The Brahms Double Concerto will be performed by Anne-Sophie Mutter and Pablo Ferrández with the Czech Philharmonic, conducted by Manfred Honeck. She will also tour with the Royal Philharmonic Orchestra under Vasily Petrenko, playing André Previn's Violin Concerto, also dedicated to her. In the USA, Anne-Sophie Mutter performs Beethoven's Violin Concerto: her musical partners will be the Baltimore Symphony Orchestra and Andrew Davis as well as the Chicago Symphony Orchestra under Riccardo Muti. Chamber music programmes are also planned, featuring violin sonatas and piano trios by Wolfgang Amadeus Mozart with Lambert Orkis and Maximilian Hornung; further recitals with her long-standing piano partner will focus on works by Beethoven, Franck and Mozart. During a chamber music tour with current and former fellows of her foundation, various ensembles will perform Beethoven's String Quartet in G-major Op. 18 No. 2, Haydn's String Quartet in E-flat-major Op. 20 No. 1 as well as Jörg Widmann's Studie über Beethoven, which she gave the world premiere of in Tokyo on February 22, 2020.
For her numerous recordings, Anne-Sophie Mutter has received four Grammies®, nine Echo Classic Awards, the German Recording Award, the Record Academy Prize, the Grand Prix du Disque and the International Phono Award.
Anne-Sophie Mutter also takes a keen interest in alleviating medical and social problems of our times. She supports various causes through regular benefit concerts. Thus, in 2019 she played for projects of Save the Children in Yemen. In 2020 three benefit concerts were scheduled, all of which had to be cancelled: The concert at the Beethoven-Haus in Bonn will now take place in December 2021; replacement dates for the foundation "Leipzig hilft Kindern" and the London-based organization "Crisis", which aids homeless people, are still being coordinated.
The violinist has been awarded the German Grand Order of Merit, the French Medal of the Legion of Honour, the Bavarian Order of Merit, the Decoration of Honour for Services to the Republic of Austria, and numerous other honours.